Been a really long time since I last posted on this great site. This is a post mainly for UK hip hop heads that are familiar with producer Insane Macbeth who passed away from leukemia on May 8th. A good friend of mine as well as a class mate from back in my school days.Here's a collection of most of his production works from '93-present, released and unreleased inc., Kinetic Effect's 'The Mortis Experiments' E.P. & 'The Retardation Project' promo LP along with audio interview snippets, features from UK Hip Hop artists such as
Tony D, Crazy Noddy of The Sindecut, Huntkillbury Finn, Shaka Shazzam, Sparkplug, Malarchi, Sub-Zeez, Ruff Stylez, Reveal, TB Tuberculosis, The Legendary Icepick as well as Kinetic Effect and many more.
.
Check out the Mixcloud link.
Peace.
Insane Macbeth (R.I.P.) - The Legacy Collection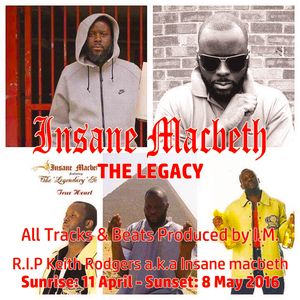 [/quote]